Serbs may not have black skin, but they are being treated like white niggers of Europe. Every day. In the media. On the streets in Kosovo….Look, the pogrom and genocide against the Serbs in Kosovo has taken many, many forms. The theft of their land, the destruction of any means of economic survival, the ghettoization of the population inside barbed-wire fences, the destruction of their places of worship, the singling out and murdering of leaders of the community....The slow and systematic ethnic cleansing of Serbs and other minorities takes place in Kosovo every day......At the celebration of St. Vitus Day, the Serbian national holiday that is traditionally celebrated in Kosovo and Metohija, Serbs had their basic human rights violated.The police prohibited people from entering Kosovo, and those who did manage to enter were forbidden Serbian cultural markings, including Cyrillic script and Christian symbols.Banners and flags were confiscated and shirts were stripped away, thus the pilgrims were forced to attend the religious ceremonies half-naked.The police fired live ammunition at unarmed demonstrators, severely wounding three people. Buses that had passed the police checkpoints, including one with children, were met with stones and Molotov cocktails by the crowd, leaving 16 children injured.Women were forced to disrobe in public. Personal possessions were stolen and destroyed..... Obviously this entire picture of KFOR, and EULEX, is nothing but a camouflage to cover up the genocidal pogrom against every person and every thing Serbian in Kosovo. Not only are the people hunted down and killed like animals whenever that's possible. If that's not possible, they're assaulted in broad daylight in front of thousands of witnesses to terrorize them. And if that's not possible, then there's an anonymous attack on buses and means of transport. And if that's not possible, then the buildings which they used to inhabit are destroyed. And if that's not possible, then they're satisfied destroying their churches and signs of their religion.......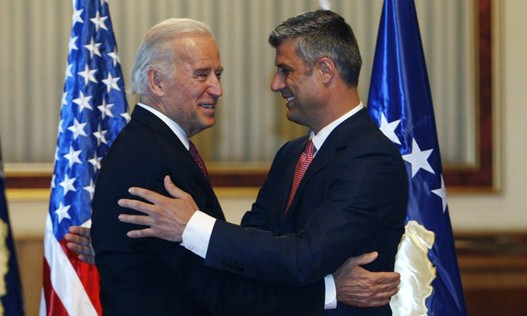 Hashim Thaci, Prime Minister of Kosovo and head of the Democratic Party of Kosovo, is the former leader of the terrorist organization which the US and NATO trained and called the Kosovo Liberation Army, KLA, or in Albanian, UCK..In 1997, President Clinton's Special Balkans Envoy, Robert Gelbard described the KLA as, "without any question a terrorist group." It was far more.The KLA is the ideological heir of the Albanian nationalist movement that collaborated with Hitler's and Mussolini's fascist invasion during World War II.....http://www.dailymail.co.uk/news/article-1338766/Kosovos-PM-Hashim-Tha-mafia-boss-stole-human-organs-Serbs.html
According to some estimates, some 65% of all the world's heroin is channeled through the former Serbian province; while 90% of all drugs that reach Europe are shipped via Kosovo....
Camp Bondsteel - A New American Footprint......Immediately after the bombing of Serbia in 1999 the Pentagon seized a 1000 acre large parcel of land in Kosovo at Uresevic near the border to Macedonia, and awarded a contract to Halliburton when Dick Cheney was CEO there, to build one of the largest US overseas military bases in the world, Camp Bondsteel, with more than 7000 troops today.....US-NATO military control of Kosovo serves several purposes for Washington's greater geo-strategic agenda.First it enables greater US control over potential oil and gas pipeline routes into the EU from the Caspian and Middle East as well as control of the transport corridors linking the EU to the Black Sea.It also protects the multi-billion dollar heroin trade, which, significantly, has grown to record dimensions in Afghanistan according to UN narcotics officials, since the US occupation.Kosovo and Albania are major heroin transit routes into Europe.According to a 2008 US State Department annual report on international narcotics traffic, several key drug trafficking routes pass through the Balkans. Kosovo is mentioned as a key point for the transfer of heroin from Turkey and Afghanistan to Western Europe. Those drugs flow under the watchful eye of the Thaci government... ...http://www.balkanstudies.org/blog/independent-kosovo-gangland-spills-savagery-worldwide
NATO-GHETTO!!!…....What is being done to the Serbs in Kosovo is without precedent since the time of Adolf Hitler in Europe. Serbs are not allowed to exercise the freedom of speech, they have no access to the media, they are disarmed, their government at least until recently and maybe still is basically under the control of the American occupiers. So all they have left is Gandhi-like tactics of sitting down on the ground either blocking the roads or blocking the squares....Serbs today, tomorrow other people! ..... http://www.youtube.com/watch?v=TdcV5N7Icwk
Germany's KFOR soldiers aim their weapons towards Kosovo Serbs......The Germans bombed Belgrade in 1941 and they killed more than 1.3 million Serbs and hundreds of thousands from other nationalities before they were driven out by the heroic Partisan struggle....Today, the German contingent of the NATO occupation force represents the first use of German troops in Yugoslavia in 54 years.......http://serbianna.com/analysis/archives/1132


.
NATO Tries to Force Christian Serbs to Submit to Criminal Albanian Muslim "Authority"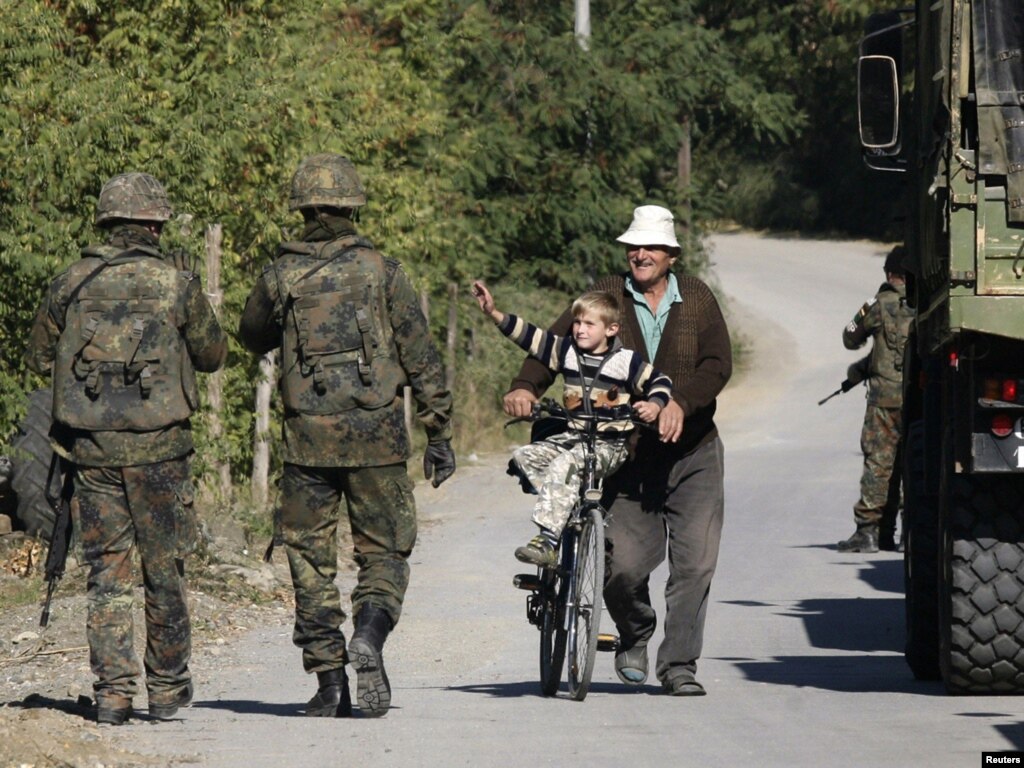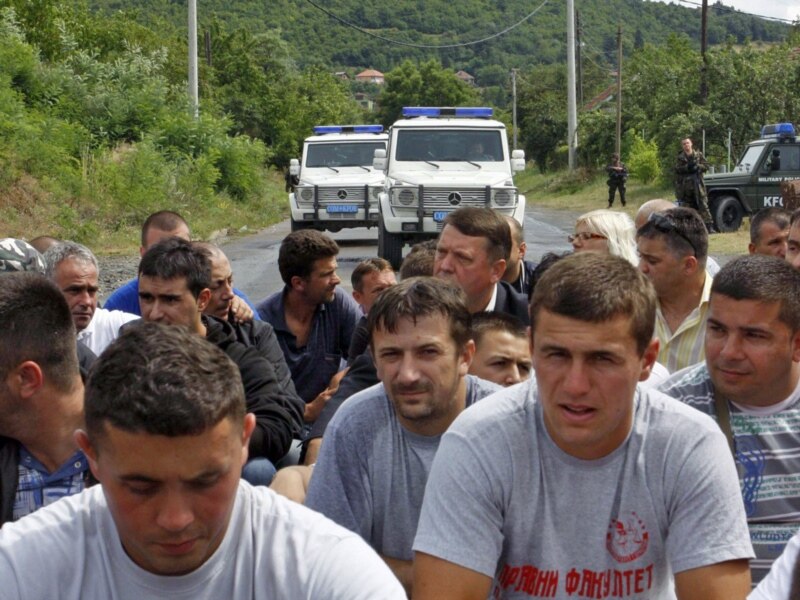 KFOR shooting at Serb civilians in Kosovo - Jarinje 27.09.2011.........
http://www.youtube.com/watch?v=iNn5RzyH5Ts
Kosovo Serbs offering meals to members of the German KFOR troops in Jarinje, 18 septembar 2011th FROM THE TIME OF THE ARRIVAL OF INTERNATIONAL FORCES TO KOSOVO THROUGH AUGUST 23RD 2003, ALBANIAN TERRORIST PERPETRATED THE TOTAL OF 5,962 ON SERBS.... IN THE SAME PERIOD, 1,206 PERSONS WERE KILLED AND. THE FATE OF 846 PERSONS, OUT OF 1,156 KIDNAPPED PERSONS, IS NOT KNOWN.IN THE ATTACKS IN 2003, ALBANIAN TERRORISTS CARRIED OUT 338 TERRORIST ATTACKS ON THE SERBS.NATO SOLDIERS DID NOTHING TO STOP THE MAYHEM.... https://www.youtube.com/watch?feature=player_embedded&v=P423409BrqU Orahovac is a city in southern part of Serbia, Kosovo and Metohija which is inhabited with some 25,000 Albanians. There is also small enclave of approx. 400 Serbian and Roma souls. In the 21'st century those people are living in ghetto which comprises of 300 meters in 2-3 streets where they are allowed to move relatively freely. Their spirit is truly something worth of admiration. ....https://www.youtube.com/watch?feature=player_embedded&v=_Rzir0ibZnA
NATO's use of depleted uranium in bullets and armor in the Kosovo War is suspected by many to be a reason for high rates of leukemia in the region today. The long term effects on the environment also remain unclear.
Hiding genocide in Kosovo…Albanians destroy 130 Serbian church in Kosovo!!!According to Human Rights Watch, 164,000 Serb civilians have been driven out of Kosovo.Serbia remains the country with the highest number of refugees and displaced persons in the whole of Europe.....